May 26 — November 25, 2018
Venue: The Japan Pavilion, Giardini della Biennale
Padiglione Giappone, Giardini della Biennale, Castello 1260, 30122 Venezia
Japan Pavilion at the 16th International Architecture Exhibition
– La Biennale di Venezia
Tokyo, 2018 –Architectural Ethnography, Japan Pavillion's exhibition at the 16th International Architecture Exhibition – La Biennale di Venezia curated by a team of Momoyo Kaijima, with Laurent Stalder and Yu Iseki will showcase 42 exhibitors ranging from university design studios, architectural offices to contemporary artistic practices from all over the world from the last twenty years.
This exhibition is an extension of the project which Kaijima has been working on since the late 1990s. Through fieldwork and observations, Kaijima has been compiling people's life and the reality of cities in a form of guidebook using architectural drawings as references. Capturing the realness of cities with keen and humorous point of view, the project questioned the nature of architecture from the perspective of its users and received a strong response in and outside of the country. Since then, in the last twenty years when our society made a remarkable change with the advance of informatization and globalization, a similar projects that followed her approach arose spontaneously across the world.
By collecting, showcasing works and architectural drawings around the world, whether influenced by her project or naturally occurred, and looking over them as "Architectual Ethnography", the exhibition aims to develop and deepen the discussion about life and architecture, the role of architecture: our society in the future.
Commissioner:
The Japan Foundation

---

Curators:
Momoyo Kaijima
Laurent Stalder
Yu Iseki

---

Assistant Curators:
Simona Ferrari
Tamotsu Ito
Andreas Kalpakci

---

Landscape Adviser:
Christophe Girot

---

Coordinators:
Yukihiro Ohira
Jun Takeshita
Hiroyuki Sato

---

Graphic Designers:
Yuzo Kariya
Nao Kakuta
With the special support of:
Ishibashi Foundation

---

With the support of:
YKK AP Inc. Window
Research Institute
ETH Zurich Department of
Architecture
University of Tsukuba
Faculty of Art and Design
The Obayashi Foundation

---

In cooperation with:
DAIKO ELECTRIC CO.,LTD
CURATOR'S STATEMENT
Life obviously exceeds architecture.
What does this mean for architecture? How can the myriad situations that both feed into and result from the design of a building be effectively mapped? How does one address architectural drawings, not just as simple notational systems but as instruments to document, discuss, and evaluate architecture? How can they work to explore people's actual usages, needs, and aspirations, and moreover to give shape to individualized life forms in today's globalized society?
The exhibition in the Japan Pavilion showcases a collection of forty-two projects from all over the world from the last twenty years, ranging from design specifications and spatial-activity charts, to maps of urban hybrids and large studies of rural farming and fishing villages following natural disasters, originating from university design studios, architectural offices, or artistic practices. They all reflect the search for a new approach in drawing—of, for, among, around—society, which we term "Architectural Ethnography."
Momoyo Kaijima, Laurent Stalder, Yu Iseki
Participants:
NPO Fukushima
Housing and Community
Design Network,
Team Fukushima Atlas
Supporting Seminar
Marie Jacotey
Łukasz Stanek,
Alicja Gzowska,
Aleksandra Kędziorek
Christoph Gantenbein /
ETH Zurich
Thomas Batzenschlager,
Clémence Pybaro
Historians with
Hugo Corbett
Marius Helten,
Björn Martenson,
Leonard Wertgen
Jonathan D. Solomon,
Clara Wong
Diego Torres,
Nicolás Tugas
University of Johannesburg
Laboratory /
Keio University SFC
KU Leuven
Melakeselam Moges,
Zara Gray, with
Something Fantastic
John Braben
Sarah Mills /
Leeds Beckett University
NAKATANI Seminar
Martijn van Tol,
Dirk-Jan Visser,
Aart Jan van der Linden
Sony Devabhaktuni /
The University of Hong Kong
Karl Nawrot
ETH Zurich
Jean-Christophe Masson,
Franck Tallon
Hiraoka Lab /
Miyagi University,
MISTI Japan / MIT,
Reischauer Institute /
Harvard University
Architecture?
ABOUT THE CURATORS
Momoyo Kaijima (b.1969, Tokyo) graduated from the Faculty of Domestic Science at Japan Women's University in 1991. She founded Atelier Bow-Wow with Yoshiharu Tsukamoto in 1992. In 1994 she received her post-graduate degree from the Tokyo Institute of Technology. During 1996-1997 she was a guest student with scholarship from Switzerland at Swiss Federal Institute of Technology, Zurich (ETHZ). In 2000 she completed her post-graduate program at the Tokyo Institute of Technology. She served as an assistant professor at the Art and Design School of the University of Tsukuba during 2000-2009, and continued to teach there as an associate professor. In 2012 she received the RIBA International Fellowship. From 2017 she has been serving as a Professor of Architectural Behaviorology at ETHZ. Taught as a visiting professor at the Department of Architecture at Harvard GSD (2003, 2016), guest professor at ETHZ (2005-07), as well as at the Royal Danish Academy of Fine Arts (2011-12), Rice University (2014-15), Delft University of Technology (2015-16), and Columbia University (2017). While engaging in design projects for houses, public buildings and station plazas, she has conducted numerous investigations of the city through architecture such as Made in Tokyo and Pet Architecture.
Laurent Stalder (b. 1970, Lausanne) studied architecture at the Swiss Federal Institute of Technology, Zurich (ETHZ), graduated in 1996. From 1996 to 1997 he undertook a scholarship with the Swiss Institute for Archaeology and Architectural Research in Cairo, and from 1997 to 2001 served as an assistant at the Institute for the History and Theory of Architecture (gta) of the Department of Architecture of the ETH, where he obtained his doctorate in 2002. In the same year he became an assistant professor of architectural history at the History Department of the Université Laval in Québec / Canada. In 2006 he took up a post as an assistant professor of architectural theory at the Institute gta, where he has served as an associate professor since 2011. In 2009 he was a visiting scholar at the Massachusetts Institute of Technology. Since 2016 he has been the head of the Institute gta.
Yu Iseki (b. 1978, Nagano) graduated from Chiba University. He has previously worked as a member of the Planning Division of the Akiyoshidai International Art Village, assistant curator of the 2005 Yokohama Triennale, curator at the Shiseido Gallery, coordinator at the 2014 Yokohama Triennale, and has served in a curator of Contemporary Art Center at Art Tower Mito since December 2014.
ABOUT THE COMISSIONER
The Japan Foundation, the organizer and commissioner of the Japan Pavilion at the 16th International Architecture Exhibition of the Venice Biennale, is Japan's only institution dedicated to carrying out comprehensive international cultural exchange programs throughout the world. It was established in 1972 as a special legal entity supervised by the Ministry of Foreign Affairs and was reorganized as an independent administrative institution on October 1, 2003. The Foundation has 24 overseas offices in 23 countries and creates opportunities for people-to-people interactions through conducting various activities and information services to deepen mutual understanding between the people of Japan and other countries/regions with its mission statement: Cultivating friendship and ties between Japan and the World.
WORKS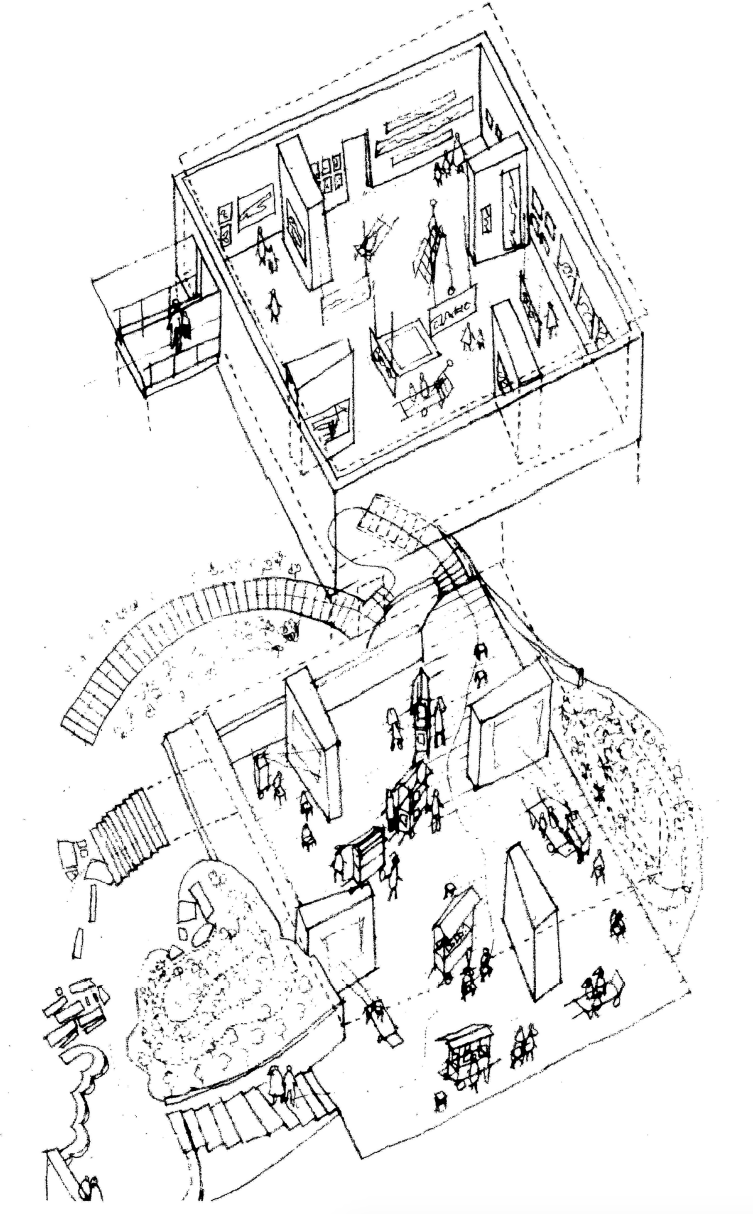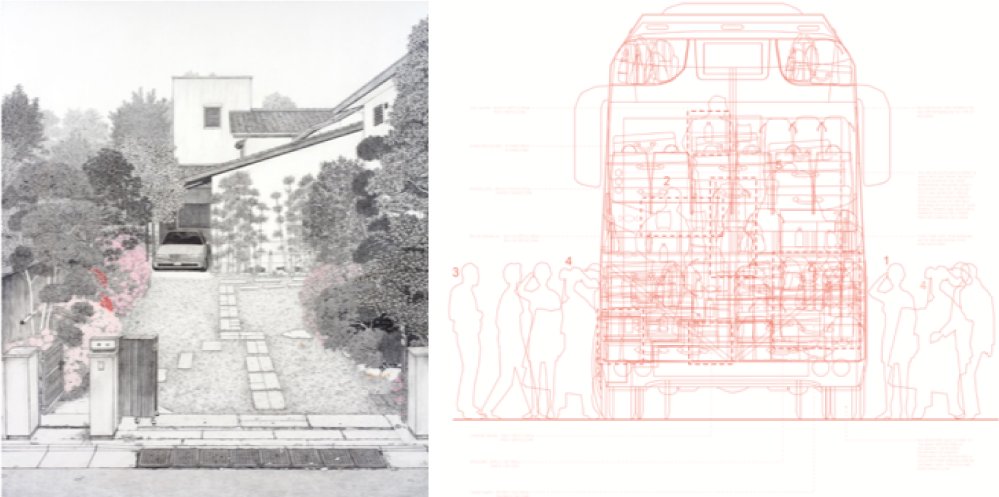 Catalog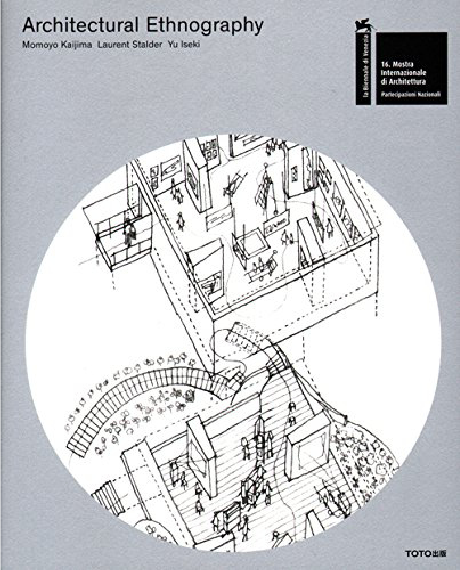 Size: 21.0 x 16.8 x 1.4 cm
ISBN: 978-4887063716
Printed in Japan
Published by TOTO Publishing
Copyright © The Japan Foundation. All Rights Reserved.